For the fourth time (after 2015, 2017 and 2019) Swiss Life Asset Managers has won the Forecast Accuracy Award for the best GDP and inflation forecasts for Switzerland in 2020. Forecasts from around 20 institutes are compared.
Consensus Economics, the world's leading macroeconomic forecast survey firm, today announced the winners of the 2020 Forecast Accuracy Awards. Each year, this firm selects the best forecasts for GDP growth and inflation. Swiss Life Asset Managers has won the award for the best GDP and inflation forecasts for Switzerland for the fourth time. For its evaluation, Consensus Economics compared the estimates from around 20 participating institutes.
Forecast for Swiss GDP growth in 2020 and actual result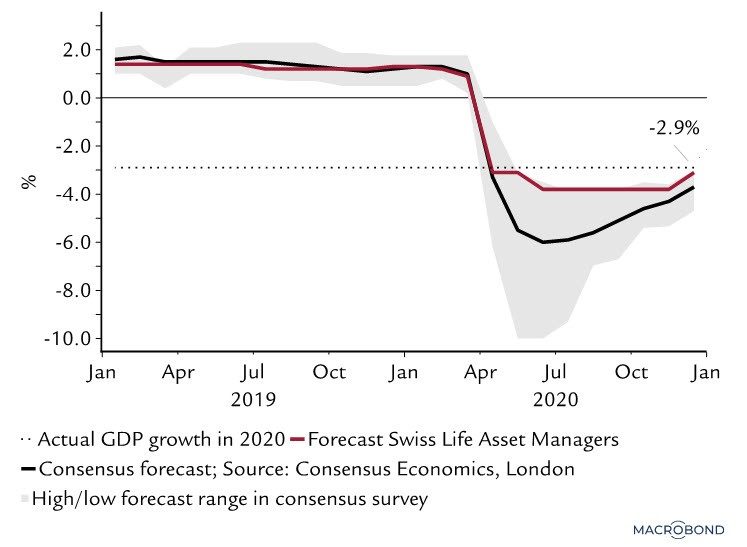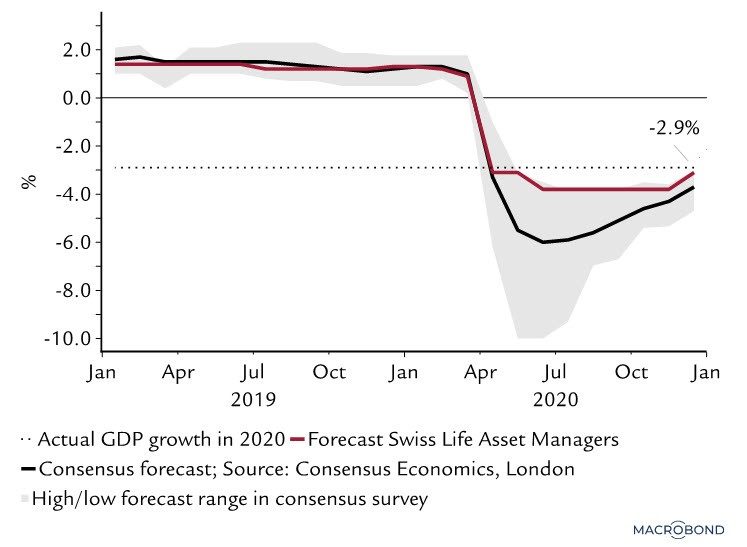 Marc Brütsch, Chef Economist, Swiss Life Asset Managers: "The unexpected pandemic and its economic consequences reminded us of the limitations of economic forecasts. We therefore see the award for 2020 as acknowledging the agility with which we have tapped into new methods and data. As early as April 2020, we were able to make a realistic assessment of the course of the recession. This differed considerably from the extremely gloomy scenarios of other institutions,
which assumed a 10% drop in gross domestic product. Our clients have benefited from this in the form of value-enhancing investment decisions and transactions on the Swiss real estate market."
Outlook for 2021
Swiss Life Asset Managers expects Switzerland's real gross domestic product to grow by 3.6% in 2021. The newly available high-frequency data show a significant acceleration in the economy since March. Uncertainties remain with regard to labour market developments and the long-term inflation risk in the developed economies.
 The monthly bulletin containing Swiss Life Asset Managers' current assessment of the economic situation in industrialised and emerging countries as well as of the financial and real estate markets, is available on our "Research hub" web page.
More information on the methodology of Consensus Economics and its determination of the accuracy of forecasts issued by survey participants: ConsensusEconomics.