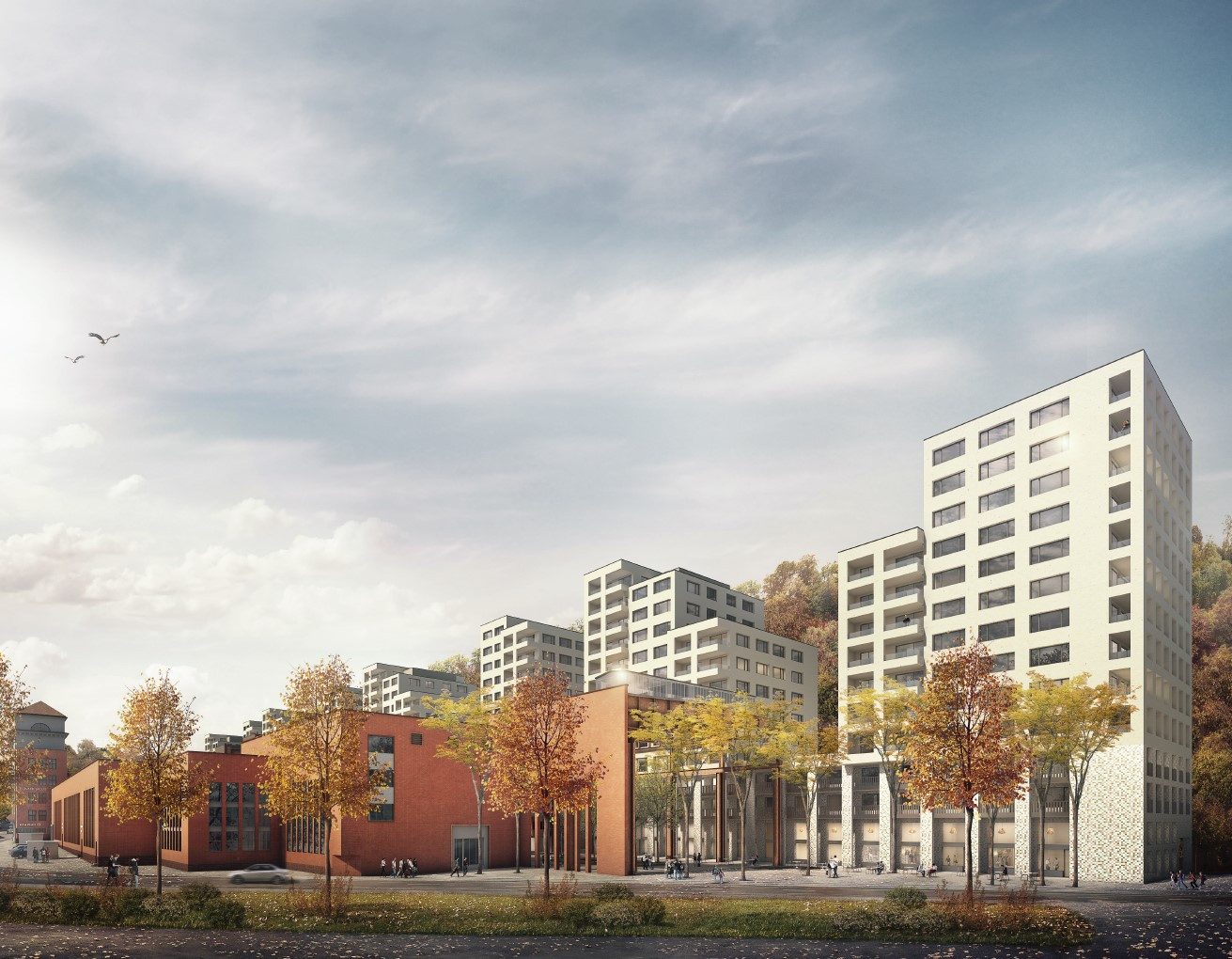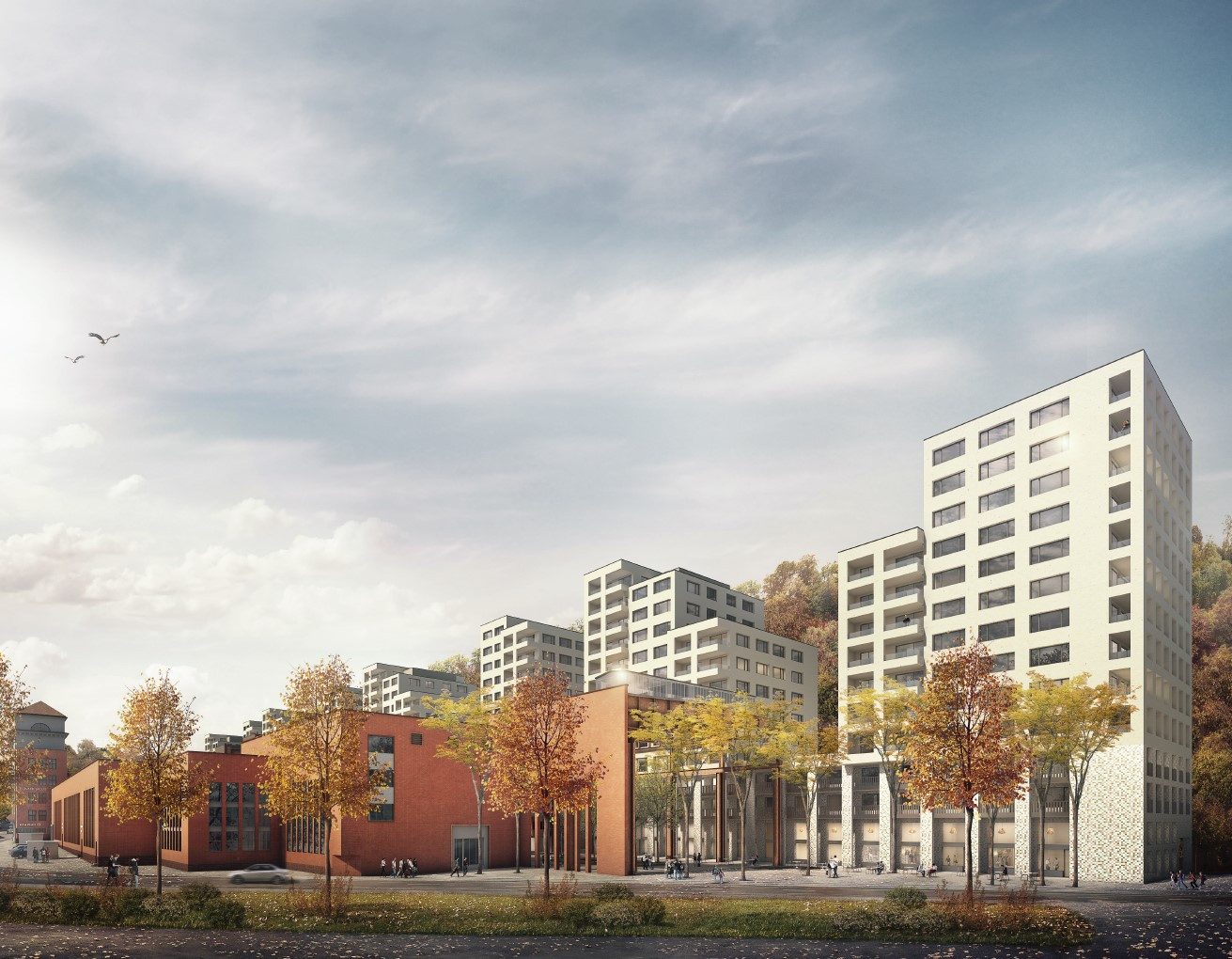 Source: Ulmer Ledergerber Architekten AG
An attractive new district is arising on the site of the former Georg Fischer steel foundry in Mühlental in Schaffhausen, with a mixture of residential, leisure and commercial property. Swiss Life Asset Managers is committing itself anew as investor in the project and acquiring eight residential high-rises, parking spaces and smaller commercial areas. The residential high-rises are being completed in seven steps and should be ready for habitation as of 2020 or 2021.
The redevelopment of the industrial wasteland will mean a new city neighbourhood with room for homes, retail, services and catering. Swiss Life Asset Managers is acquiring a total of 307 apartments distributed across eight high-rises with corresponding parking spaces as well as smaller commercial areas, and is also taking a share as part owner of the publicly accessible Stadtgarten (city garden). The grounds are thus shared in more or less equal measures between the two main investors, Swiss Life Asset Managers and Klaiber Immobilien AG. It has been agreed not to disclose the purchase price.
Renato Piffaretti, Head of Real Estate Switzerland at Swiss Life Asset Managers, says: "We are delighted to be a part of this pioneering project for the city of Schaffhausen. The region enjoys a high quality of life and the steel foundry is a successful example of the transformation of former industrial grounds into sustainable, compact residential and service areas. The project offers a convincing mix of homes, work space and leisure opportunities and combines modern architecture with living comfort and the industrial roots of the neighbourhood."
Entrepreneur Carlo Klaiber of Klaiber Immobilien AG adds: "With Swiss Life Asset Managers we have found a celebrated investor with plenty of experience and market know-how in the real estate sector. This cooperation will make it possible to complete the whole project strategically and expeditiously."
New city neighbourhood in the heart of Schaffhausen 
Transformed and enhanced with new constructions, the former steel foundry will consist of attractive residential high-rises as well as office and commercial buildings in former industrial warehouses. A new living and working quarter is arising with a school and various other offerings, among them a medical practice, in Mühlental, for the moment a mainly commercial district. The old town and railway station can be reached easily on foot from the neighbourhood. At its centre is the public, partially covered city garden, which is to function as a meeting place for inhabitants of the neighbourhood and of the city at large.
Phased construction of the residential high-rises 
Construction of the properties acquired by Swiss Life Asset Managers is to be completed between 2020 and 2021 in seven stages. The 307 rental apartments are in the medium price range. The residential high-rises are being built according to the MINERGIE standard and thus meet modern sustainability criteria.
Key data:
Area of parcels / city garden

Seven parcels with an area of approx.10 250 m2
Fifty percent co-ownership share in the city garden with an area of 8560 m2 (approx. 300 m long and 25 m wide)

Number of buildings

Eight

Lettable space

 Total approx. 31 500 m2 gross floor area, including approx. 1000 m2 commercial space
approx. 300 parking places

Apartment mix in percent

2.5-room apartments: approx. 43.3 %
3.5-room apartments: approx. 28.4 %
4.5-room apartments: approx. 27.0 %
Larger apartments: approx. 0.3%
A total of 307 apartments are being built for Swiss Life Asset Managers.

Swiss Life investment vehicles participating

Swiss Life Ltd (four residential high-rises with 150 apartments)
Swiss Life Investment Foundation (two residential high-rises with 75 apartments)
Swiss Life REF (CH) Swiss Properties (two residential high-rises with 82 apartments)

Completion/ready for occupation

Planned between early 2020 and mid-2021 in seven stages
The real estate fund described is governed by Swiss law and is offered exclusively to qualified investors as per the Swiss Federal Law on Collective Capital Investments (CISA). Comprehensive information on the fund can be found in the documents which form the legal basis for any investment. They may be ordered free of charge in electronic or printed form from the fund management company, Swiss Life Asset Management Ltd, General-Guisan-Quai 40, 8002 Zurich, or downloaded from the electronic platform www.swissfunddata.ch. The investment funds of Swiss Life may neither be offered nor delivered in the USA or to US nationals. This document was produced with the greatest of care and to the best of our knowledge and belief. However, we provide no guarantee with regard to its content and completeness.